Pedal For Change
---
Responsibilities
User Research, UI/UX Design, Editorial Design, Photography

Team Members
Aaron Redublo, Josh Baptista

Client
Impact and Innovation Unit
Overview
---
Pedal For Change is an immersive web experience & social initiative that aims to ease the tensions between cyclists and motorists in smaller municipalities.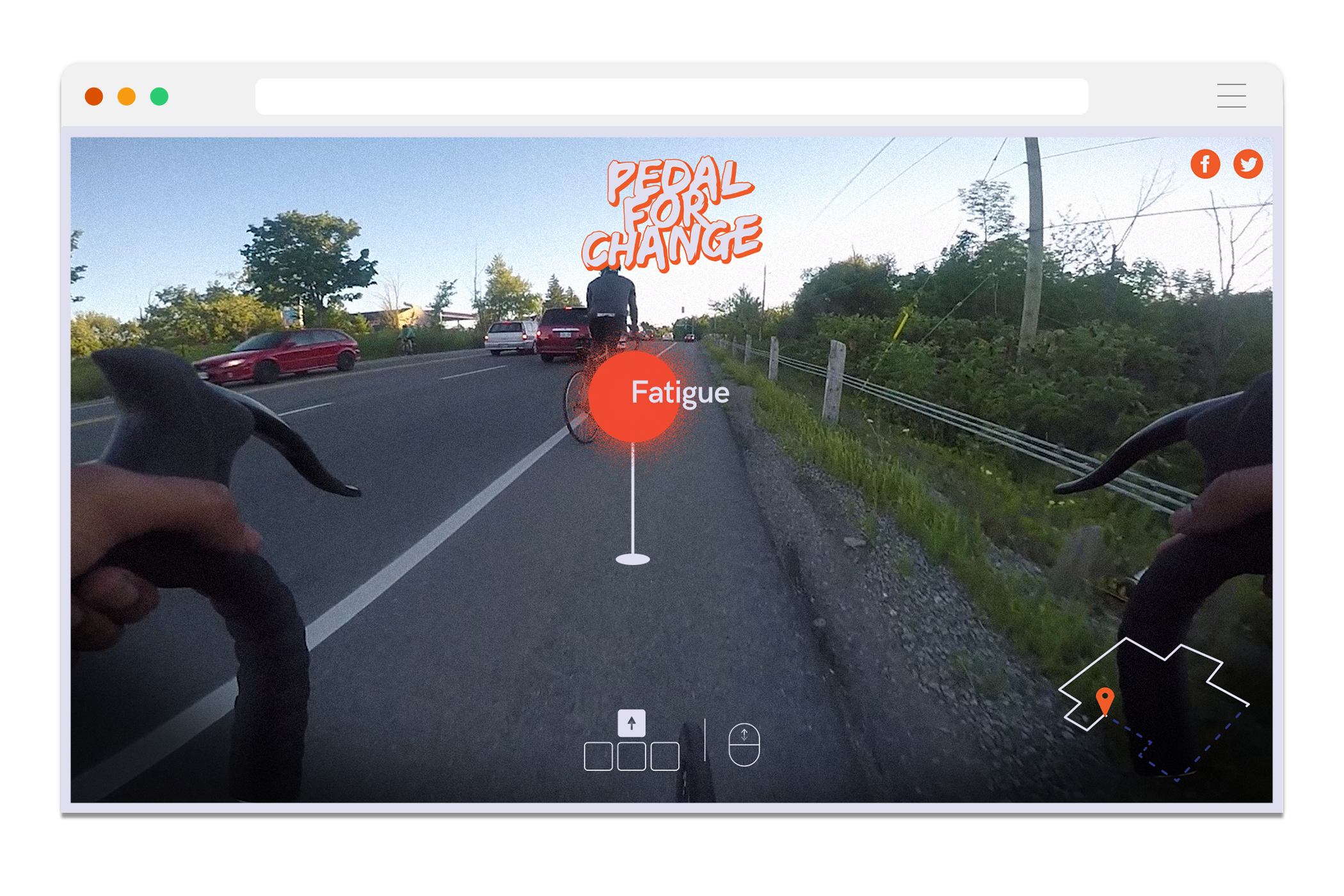 Challenge
---
Public roads are made possible by our innate nature of using shared spaces in a considered way. Shared spaces are also used differently by different users. This has unfortunately resulted in the often uneasy relationship between cyclists and motortists.

Objective
---
A solution that advocates on the behalf of cyclists living in smaller cities and towns by educating other demographics on the cycling experience.
Project Background
---
Tasked with designing a way to address Canada's most pressing societal challenges while also meeting the criteria of our academic external client, the
Impact and Innovation Unit

.
We chose to tackle public infrastructure. According to the
2014 Stratcom Share the Road Survey Results - Summary ︎
:
"67% of Ontario residents say they would be more likely to ride if their community had more and better cycling infrastructure.
Research Strategy
---
Methods
---
We used various design-led research tools to get real insight on the cycling experience.
From in-depth interviews, route-tracking, surveys, immersion based exercises - no stone was left unturned. We worked closely with 2 cyclists of different experience levels to aid with our research process.
Report
---
All the research was consolidated into 27 pg. report.

The design direction of the research report was spear-headed by me.
Photo Journal
---
I also kept a photojournal of the experience, and took photographs of the cyclist who was involved with us in order to help build connections between other groups and cyclists.

Solution Development
---
Project Drivers
---
Our intent is to get people into the mindset of what it means to be a cyclist and the safety issues they face on the road. We used the digital medium to build an interactive narrative so that demographics from other walks of life can empathize with the cyclist experience.
The success behind the experience we wanted to create was measured with these project drivers.
Do something unique that hasn't been done within this context.


Educate people about a real cyclist, and then experience how it feels to be in their shoes - building empathy through a shared connection.


Make it shareable so more citizens can be more vocal about these issues and ask governing bodies to make this a higher priority.
Target Audience
---
Our main target audience are non-cyclists (2 and 3) as they are the segment of the population that will be the main drivers to allow this change to happen. The non-cyclists audience can be broken down to separate demographics such as pedestrians, and motorists.
Each of these demographics will need different levels of education and empathy building. Pedestrians and cyclists have a much stronger symbiotic relationship than motorists and cyclists as made evident due to our research findings.
Solution Defining
---
Pedal For Change is a web experience that would put users into the shoes of a road cyclist and let them experience the world through their eyes.
Building empathy for under-represented groups is a monumental task. We believed the best way to do so is to not only inform others but also give users the avenue to create actionable change.
We devised a 3 part structure in creating empathy. First by making the problem relatable by attaching it to a single narrative, then informing the user of the problems, and then finally, giving them a call to action.
Site Map
---
Our content structure for the experience follows our "empathy" template.
Wireframes
---
Early wireframes were created to showcase the functionality and feature-set of Pedal For Change.

Users would be able to "cycle" through the experience using either their scroll wheel, or keyboard. Along their journey, they would approach information points that we gathered during our research period. We gathered our own GoPro footage to model an immersive way for our users to experience cycling.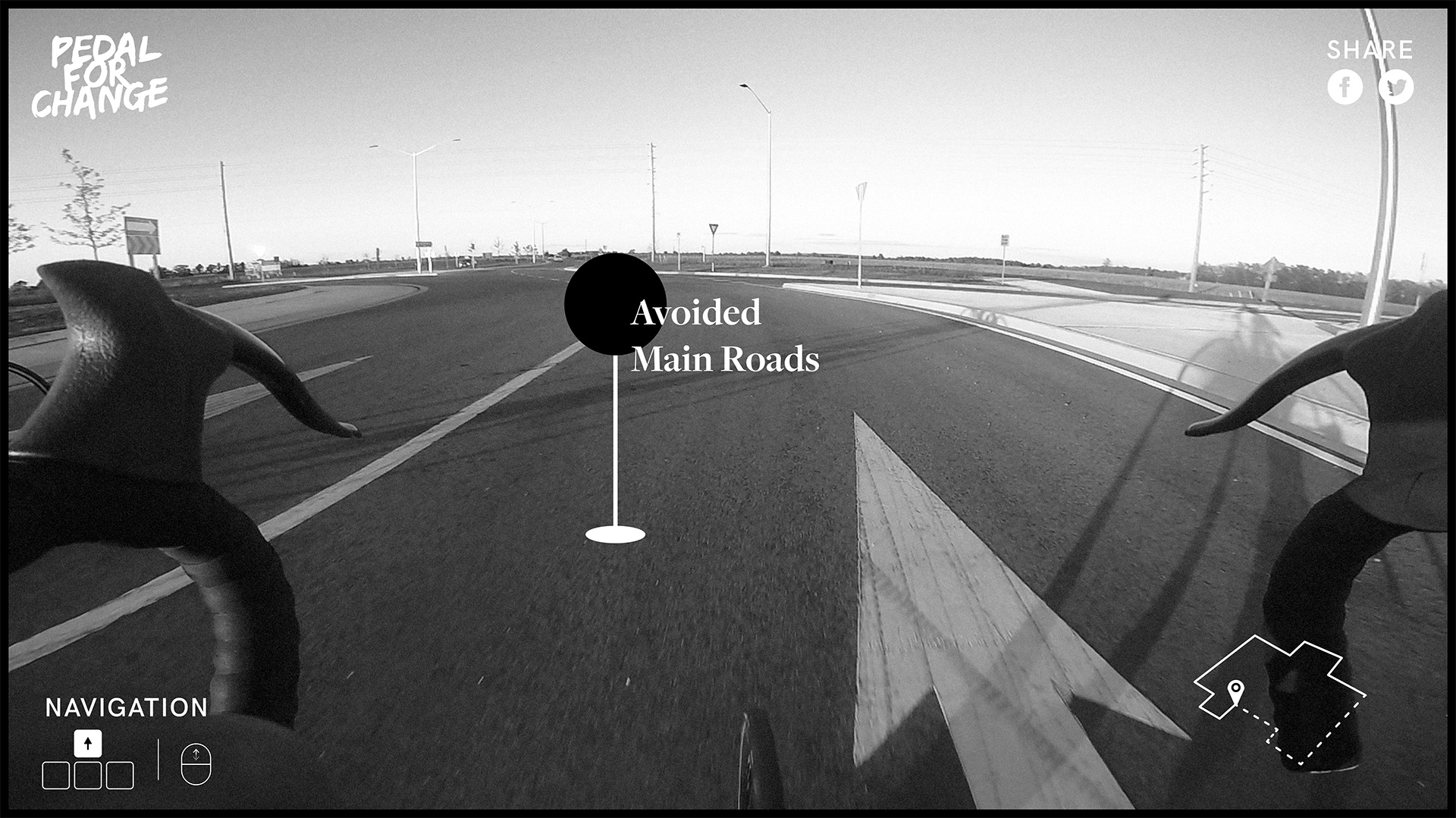 Takeaways
---
Pedal For Change was an exercise in learning how to quell tensions between two groups to create a sense of shared empathy. Every step we took during the project was instrumental in creating this experience. We spent a lot of time immersing ourselves in the problem space. Only by focusing on our core demographics we were able to point to a solution that would make cycling safer through the means of education.